One of the best things about the digital age and Photoshop is the ability to repair our precious images. Over the years many photos get damaged. They might get creased or torn, loose colour, change colour or simply due to storage they may get mildew marks or other stains. Water damage, fire damage and all sorts of wear and tear damage can be repaired to a high standard. Repairing images can be as simple as a few tweaks, or extremely complex. More often than not however, it is possible to get a good result with a skilled photo restorer.
After getting quite a bit of practice over the last few years I have decided to add a photo restoration service to my store. Restoring photos has become a passion of mine as I get an enormous amount of satisfaction in being able to repair precious photos and memories for people. Captured memories are something that can never be repeated, so often it is well worth spending money to have the photos of those precious memories restored.
One of the most difficult restorations I have ever done was for a dear friend who had this precious photo of her brother who sadly passed many years ago. At face value it looked like it would be difficult, but it wasn't until I really got stuck into it that I realised just how difficult it was going to be. There was a lot of tiny damage that looked like some sort of scraping or ripping from the image as if it had tape on it. It was a much loved photo that had been kept in a wallet. Each little tiny tear had to be repaired individually and it took many hours of work because the work was so intricate. The colour was quite good but it did have some fading and lost contrast that needed work as well as the damage repairs. The end result was quite pleasing.
The following 1800's image was one I have worked on as the photo was to be used for the creation of a heritage album. The clothing and the background are so precious and it was such a pleasure to work on this beautiful image of the past. As you can see there is a tear through the neck of the male adult figure as well as a small tear going through the face. The mans head in the photo had at some stage been repaired with tape and was crooked and his nose was severely damaged. The toddler on the mothers lap also had some damage to her face and was missing an ear and due to a tear in the photo. The edges of the photos were quite damaged in such a way that it would be difficult to crop out without loosing important parts of the image. If you would like to get a closer look, just click on the image below and a larger version will appear.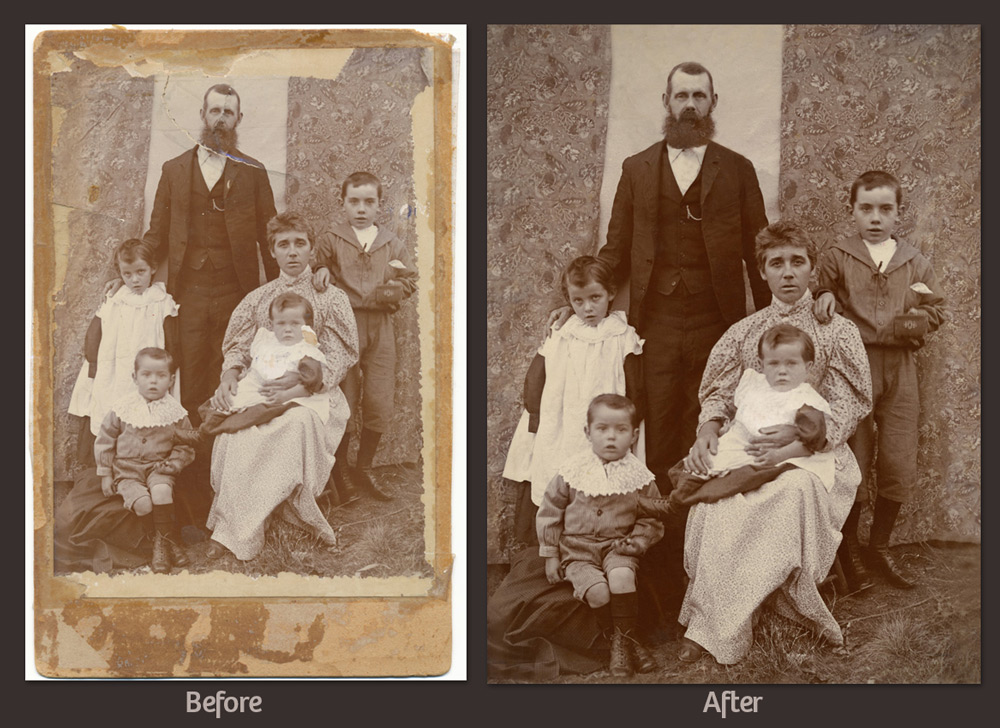 Below is a close up of the repairs done to the mans face and neck.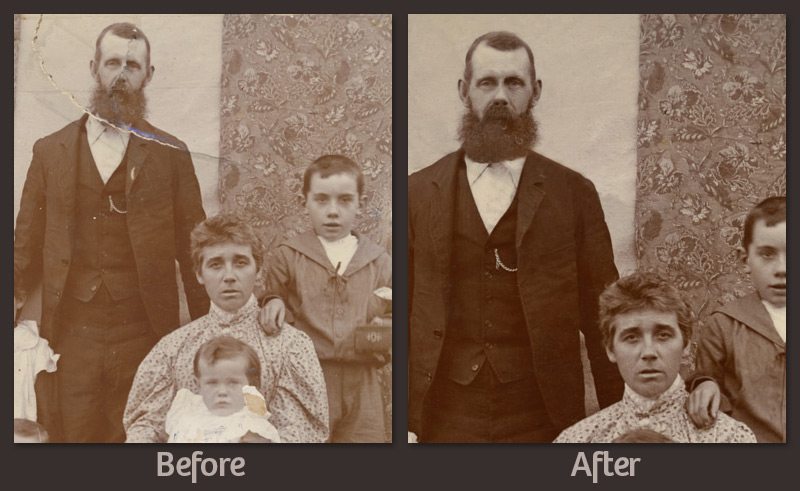 The image below had a few creases through unfortunate places including through one of the bridesmaids face. There was also a bit of fading requiring some contrast tweaks. Given that most of the damage was not on delicate areas of detail it was a moderate amount of work to repair. I am sure you will agree the end result is quite pleasing and having it now in digital format means that if a print becomes damaged again it can simply be re-printed.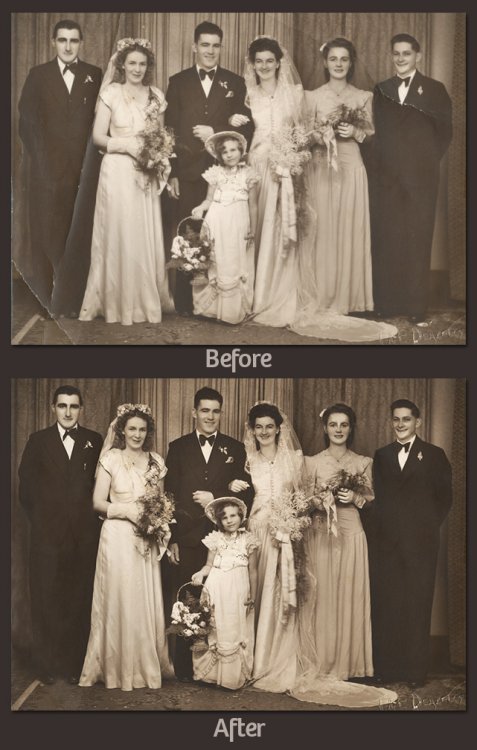 This precious 70's image is typical of many images from that time in that it has greatly discoloured. Much of the colour in the image has changed and it has a clear red colour cast as well as a less obvious yellow colour cast. Many early colour images have multiple colour casts that need removing to bring back the true colours in an image. The red cast especially has reduced a lot of the detail in the toddlers face and the rocks and bank behind him. As images from that time are hand printed, they often have crooked edging so that can easily be fixed at the same time when restoring an image.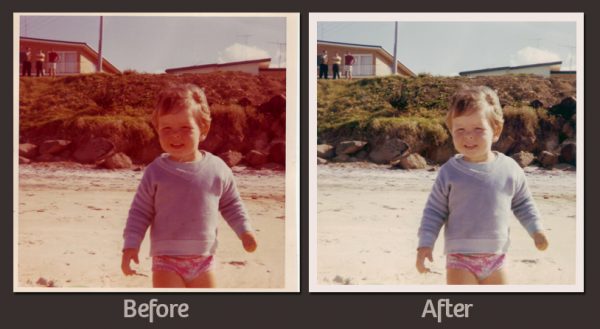 Here is another precious 70's image with some quite heavy colour casts. There is a heavy magenta cast on the right of the image and a yellow cast heavier at the top, as well as an overall red colour cast. Colour restorations can be at times quite complex to restore as they often have so many colour casts in them and often partial ones as in the photo below. There are also a few dust posts and a scratch mark across the photo. Once the colour casts are removed and some of the contrast boosted and details darkened we are left with a very precious memory without the discolouration.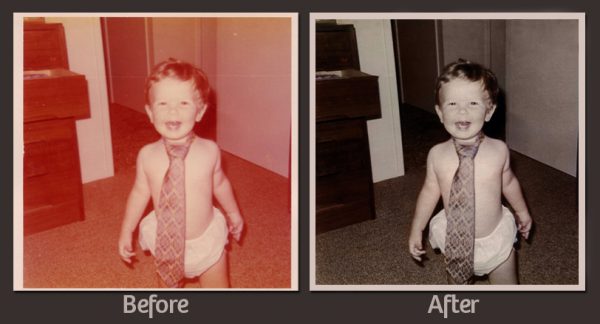 This beautiful image of a young girl on her honeymoon in the late 40's is something to remember but a shame all those stains spoil such a beautiful photo. I was able to crop out some of the paper damage at the top right as the gentleman in the background is not crucial to the image. The yellowing is quite easily and quickly removed but some of the staining requires a little more work. Not an overly difficult job to restore but well worth doing for the end result.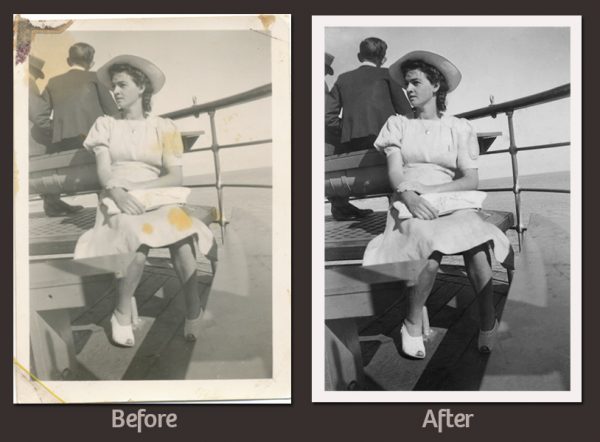 This wonderful old wedding photo from the 40's features Mum and Dad, but poor old Mum has had half her body chopped off! Oops! There are also quite a few stains and marks which have been removed. I added the other half of poor Mum's body to finish  the photo a little better and added a bit of a tint to give it a slight sepia tone.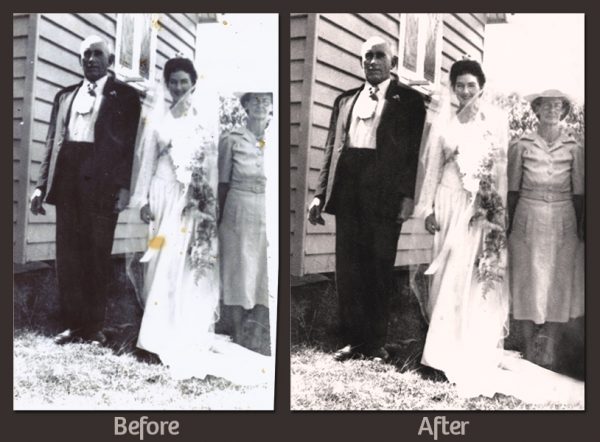 As you can see there is much you can do to improve and restore your old and damaged photos. A few cosmetic alterations are an option too. I have been known to remove a glare from glasses and remove a shadow from teeth. Brightening your teeth, eyes and smile is an option too. The key for cosmetic alterations is subtlety. We have all seen those glaring Photoshop fails!
If you are interested in a quote on some custom photo restorations, feel free to get in touch and you will receive a quote within 48hrs.
For best results scans should be done at a minimum of 300dpi. The higher resolution a scan is done the better quality the end result will be. (choose the highest resolution your scanner software will allow).