I had lots of fun doing the Digital Scrapbook Day Speed Scrap marathon today. I managed to do three layouts which is more than I normally do in a week, actually 2 weeks!!! I really need to do more speed scraps, it is such a great way to get some layouts done! Anyway, I thought I would share what I got done with you.
The first layout I did used this as the inspiration piece, so my layout was a loosely used inspiration for this one. I used my Tweet Chic Digital Scrapbook Kit to make the layout with. I think it took around 38 minutes all up.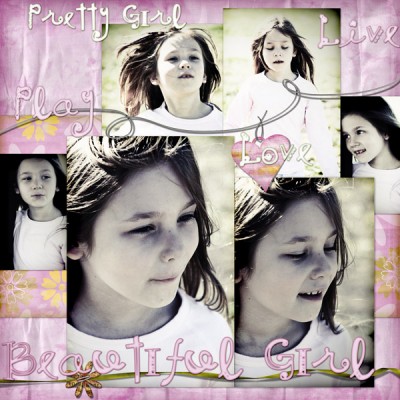 The next one I did was for my scheduled speed scrap. I had already chosen the inspiration piece and had an idea of what photo I wanted to use once I chose the inspiration so it was easier for me to do it quickly. I find that finding the photos is the most time consuming part, especially when you have thousands and thousands of them on your hard drive. I have started tagging the photos I want to scrap so they are easier to find when I need them.
This is the inspiration piece I chose, I loved the word art and loved how it formed a 'line' down the middle, although I did adjust the idea for my own layout. After choosing the piece I remembered this photo of my son being a frog and thought of the Galoomp song, what better words to use for the word art?
I had a lot of fun doing this layout and have had the song in my head all day!! I used one of the papers from my Monodrama Digital Scrapbook Kit and changed the blend mode on the photo to bring the texture through from the background underneath. I also used some grunge brushes to soften the edge of the photo under the word art and the clone tool to add some remnants of the concrete print under it as well where the photo ended.
I did this one in 27minutes! I guess it helps to know the inspiration ahead of time so you can plan the photo you want to use.
For the next scheduled speedscrap I did this was the inspiration. I found this one tough to think of something at first, but had a browse through my photos to scrap and found some I wanted to use. Another loose use of the inspiration, but hey that is the way I roll. he he! I once again used my Monodrama Digital Scrapbook Kit. I keep coming back to this kit so I think it would have to be my all time favourite kit to scrap with!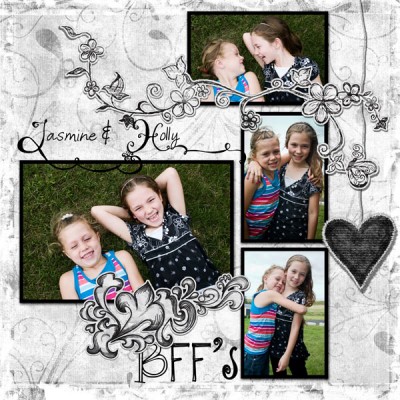 If you have never tried a speed scrap, I totally recommend it to get those creative juices going.