I have done some layouts with my About A Boy Digital Scrapbook Kit.
This is my Darling boy who when he found out his uncle was getting married insisted he wanted to wear a suit!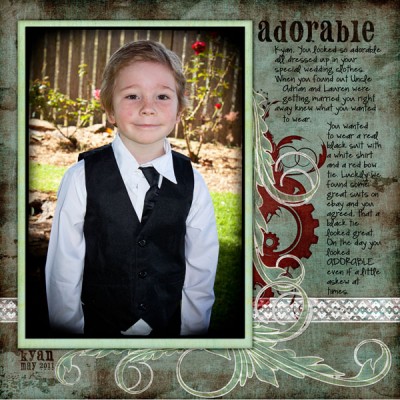 Journalling: Kyan, You looked so adorable all dressed up in your special wedding clothes. When you found out Uncle Adrian and Lauren were getting married you right away knew what you wanted to wear. You wanted to wear a real black suit with a white shirt and a red bow tie. Luckily we found some great suits on ebay and you agreed, that a black tie looked great. On the day you looked ADORABLE even if a little askew at times.
Yesterday we had to put our 17 year old cat down. He has been a wonderful boy, very friendly, loyal and affectionate, but his health issues were too many and he was in a lot of pain and no longer happy, so it was time to put him down, which was so very hard to do. It is only now that he is gone that I am realising just how much we are going to miss him. He has been part of our family for so long, since before we were married!
I really felt like I needed to do a layout of him last night so I did this layout using the About A Boy Digital Scrapbook Kit, just one of the papers, which I then blended his photo over.