Today is my very first Feature Friday! Every so often I will feature a Digital Scrapbook Kit on my blog and feature some layouts created with the Value Collection as well as some products that co-ordinate well with the Featured Value Collection. I am hoping featuring some kits with some layouts will help inspire you to use the kit some more if you have it already, or maybe even buy it if you don't already have it. ::innocent smile::
Today I am going to feature one of my long time favourites as a kit I keep coming back to over and over again, The Monodrama digital Scrapbook Kit
Here are a few of my own layouts created with Monodrama. As you can see in this layout, the monochrome colour scheme works beautifully with high colour photos. The photos just POP from the black and white layout.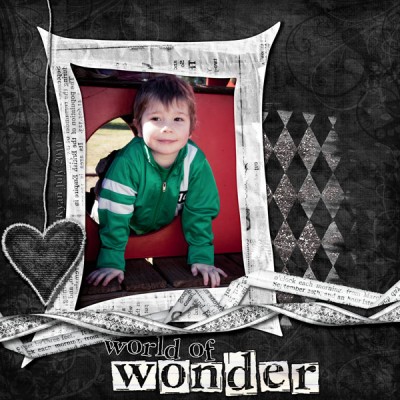 I love using Monodrama when I am not sure which kit will go with the photo best. In this case however, I also thought it was perfect because of the patterns on my daughters top!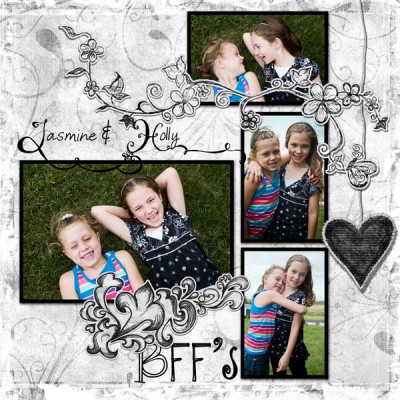 Black and white kits are also perfect for an adorable black kitty! How sweet is our kitten Polly! Sadly she went missing at 11 months and we miss her still!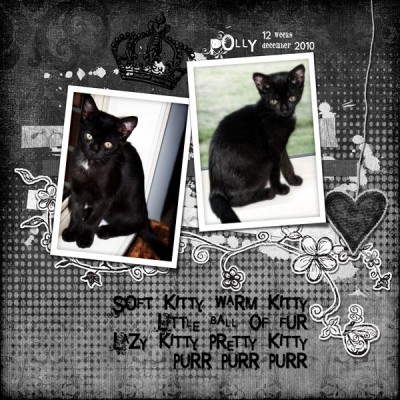 Here are some gorgeous layouts created with Monodrama that I have spotted in the DSP Gallery!
I love the simplicity of this layout by DSP member stitchmitch!
I love the wide angle black and white shot and use of negative space on this layout by just-pjz. It makes for a for a very striking layout! just-pjz also used my Floral Page Borders to make the floral accent to the left of the page.
How adorable is this layout by DSP member dagwood. This little man is so precious and she has shown him off to perfection with her layout.
I LOVE this layout by DSP Designer Jeanet. I love the simplicity, the subtle use of accents and the beautiful splash of colour in the photo. Just SIMPLY STUNNING!
Here is a gorgeous layout by DSP member renee s. I love the splash of colour in the photo and how she bordered her layout with the flowers and black paper. I also love the feint silhouette on the background paper. GORGEOUS!
I hope you have been inspired by this gorgeous selection of layouts by DSP members. I know they certainly inspire me! I have two instant albums created with the Monodrama Digital Scrapbook Kit, and also have a selection of products which are designed to coordinate with Monodrama.