Metadata is a method of tagging graphics and photographs in order to record important information, keywords, copyright and sorting information. Metadata is information embedded into your image files.
In Photoshop you are able to view metadata for an image, by going to the file menu and choosing – File Info
This is what the window will look like.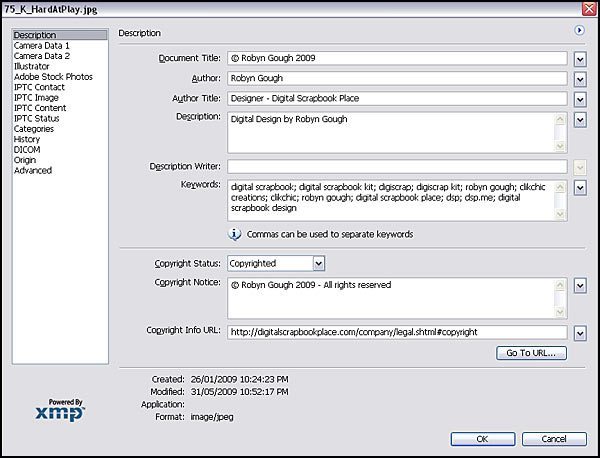 Many people who have Photoshop are unaware that a very powerful file management software is also available at their disposal. Adobe Bridge, comes with Photoshop and is accessible from the File Menu when you click on Browse. There is also a button in the Photoshop toolbar.


Once you open bridge you will have a screen that looks something like this. On the preview below I have it open on a folder that contains a kit I have designed.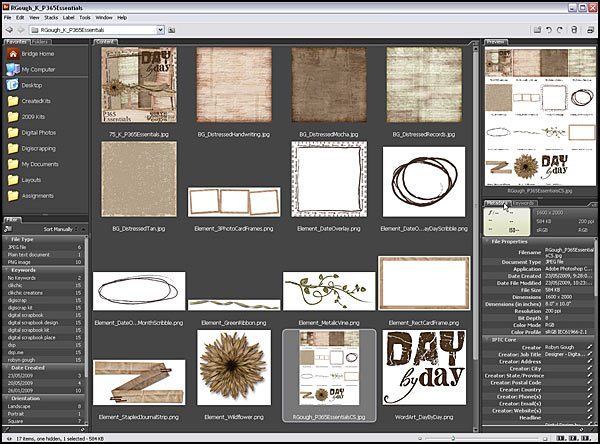 On the left there is a favourites column where you can set your favourite folders. Underneath there are keyword filters with which you can filter your viewing options. The middle column displays thumbnails of the folder contents, the viewing size of which can be simply adjusted using  slider at the bottom of the screen. The top right column displays the selected items, and the bottom right column can display metadata or keywords.  When viewing photos,  the camera settings used for the selected photo is displayed. Underneath file properties,  a whole variety of information recording options.
If you click on the keywords tab, you are able to view and assign keywords to each image to enable the easier location of your image files.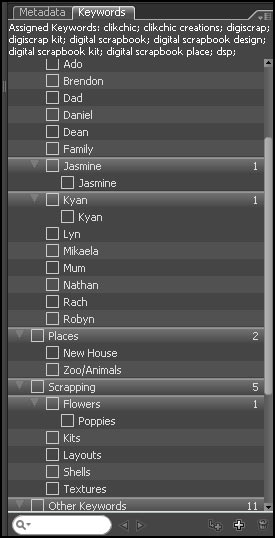 You can add as many standard keywords as you wish, keyword by basic colours, embellishment types subjects in a photo, and the list goes on.
Next we come to metadata. As you can see by the sample window below, you can create your own metadata templates, say for example one for each of your favourite designers, to record their design information. You could set metadata templates for colours and element types. You could include links and credit information and as much or as little information as you like.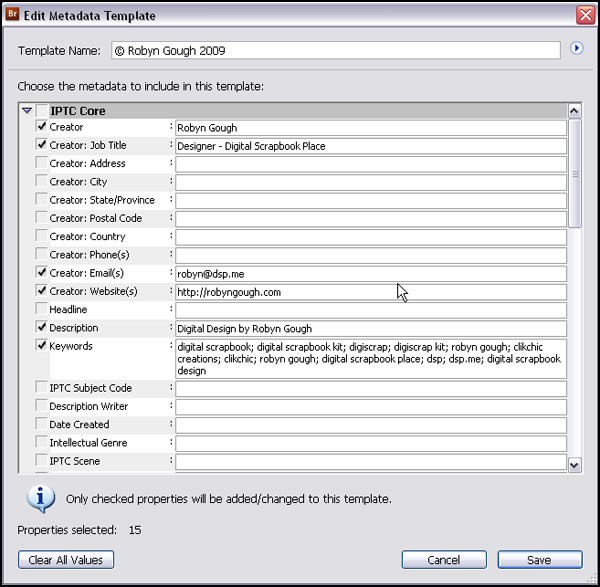 To access this information click on the drop down arrow to the right of the Metadata tab. You will see a menu where you can create and edit meta data templates. You will also see where you can add the metadata templates to your images and graphics. You have the option whether to append or replace the metadata.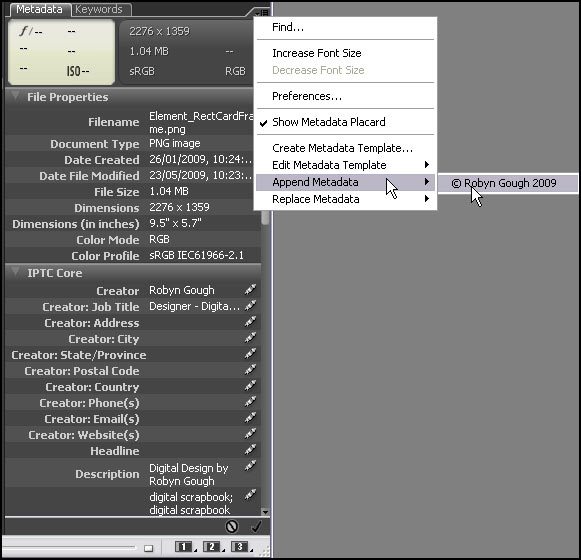 You can also manually edit each field in the metadata column as needed. When you add metadata using a template, the information is automatically added to the fields above.
If you are a Photoshop user, it may be worth investigating your keyword and metadata options in Adobe Bridge before deciding whether you need to invest in image tagging software.
© Clikchic Designs 2009