I have a brand new set of Adobe Camera Raw Presets now available in my Etsy Store especially for you!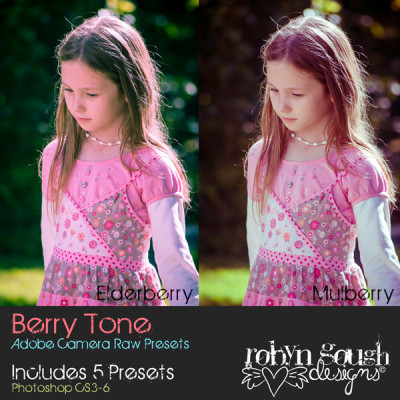 These
Berry Tone Adobe Camera Raw (ACR) Presets
are so quick and easy for giving your photos a boost. ACR comes with Photoshop and these presets have been tested are suited to 
Photoshop CS3, CS4, CS5 and CS6
. One of the great things about Adobe Camera Raw, is that if you already have Photoshop, you don't need Lightroom! You can edit your RAW files in ACR which comes free with Photoshop.
Why shoot in RAW? RAW format is the original data format by your camera. It retains a lot more data within the photo as it is not compressed like a .jpg which reduces the amount of detail. Shooting in RAW gives you much more flexibility when it comes to editing and is much more forgiving than .jpg format.
Instructions for using these ACR Presets are included in your file.
Have a commercial project that this product would be great for?  See Commercial License Pricing by the Add to Cart button!
Includes:
Elderberry Preset
Gooseberry Preset
Huckleberry Preset
Mulberry Preset
Raspberry Preset