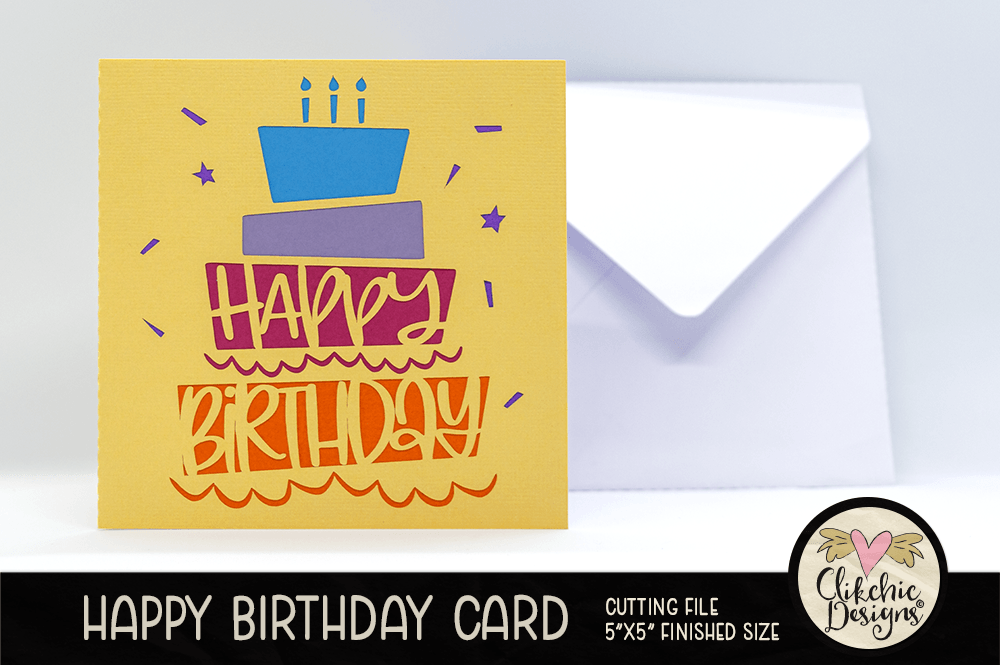 For those of you who haven't seen it yet my Cake Birthday Card SVG Cutting File it is now available in my stores listed below.
There is a basic assembly tutorial which works for all my cards to date available here. With his card I wanted to include the option of having different colours for each layer of cake so if you wish to use that option some extra steps are involved.
The included cutting parts for cake background pieces is optional to use to add extra colour to your card. Check out one of the links above to see the difference between a card with and without those pieces. If you wish to make a card more quickly you might choose to just use a patterned or brightly coloured paper insert. Making different cardstock colours when you have the time however gives the card a bit of pop, so I have included the cutting files to do so.
Pieces are designed to sit flush against each other inside the front of the card. Place pieces in position and check they are covering cake and swag accents correctly. The top of the top piece sits parallel with the top of the card and each piece sits flush under the other.
Tip: Mark corners of pieces while holding in place to ensure correct placement after glue is applied.
Once you have marked the corners (unless you prefer you prefer to wing it then skip the corner marking) spray the left side of the card with adhesive. If you prefer another method of gluing that is of course your choice. I used a glue stick for a while till I got the spray adhesive, but I find the spray adhesive gives better hold on the delicate pieces. I usually cover the other side with scrap paper before spraying to ensure the other side does not get sprayed.
Attach the cake pieces in the correct positions. Then once pieces are attached add more adhesive on back of cake pieces.
Attach the insert to the adhesive covered side of the card to complete your card.
I also have envelopes available which allow you to cut envelopes with custom coordinating cardstock to suit a large range of sizes.
Envelopes in my Etsy store, Creative Market store, Design Bundles Store and Hungry Jpeg store.
Good luck with your card making! I hope you enjoy my designs.
©Clikchic Designs 2021. All rights reserved.